Prestige Implants
Angular Abutments
DENTIN One Piece Implants Series
Each of these unique One Piece dental implants is specifically engineered for narrow ridges and tight spaces. The insertion of the One Piece implant is a quick and simple single stage procedure.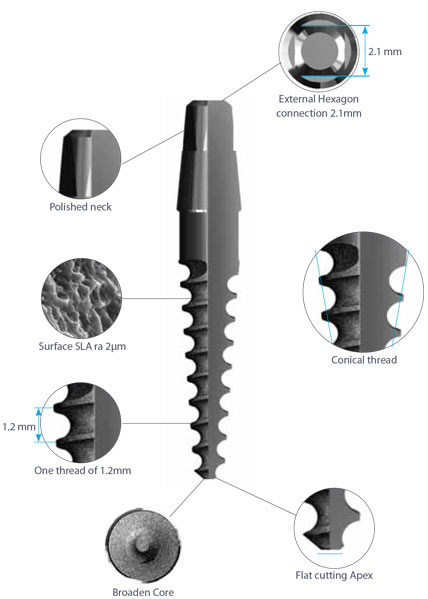 Due to their innovative geometries and advanced surface morphology these unique implants offer high initial stability.
These versatile implants can be used to restore single crowns and anterior- cemented bridges. The One Piece implants are available in two diameters 3.0mm and 3.3mm and
have varying heights of 10mm, 11.5mm, 13mm, and 16mm.
One Piece Implants Advantages:
Easy
An innovative design with increased insertion speed makes the DENTIN One Piece implant an easy implant to insert.
Simple
The designed tools and simple procedure of DENTIN One Piece implants ensure worry-free restoration for the clinician.
Versatility
The DENTIN One Piece implant is indicated for use in narrow ridges and tight places such as maxillary lateral and mandibular incisors. The versatility of the DENTIN One
Piece implant enables the clinician to use the implant for single- tooth, partial-denture and over-denture restorations.
Long lasting
Due to the innovative geometry and advanced surface treatment, the DENTIN One Piece implant provides a high level of initial stability and a long lasting restorative result.
Stability
DENTIN One Piece implant design ensures maximum strength and stability for the implant and restorative parts.
| | | | | |
| --- | --- | --- | --- | --- |
| | L=10 | L=11.5 | L=13 | L=16 |
| ∅=2.5 | DOP-1025 | DOP-1125 | DOP-1325 | DOP-1625 |
| ∅=3.0 | DOP-1030 | DOP-1130 | DOP-1330 | DOP-1630 |
| ∅=3.3 | DOP-1033 | DOP-1133 | DOP-1333 | DOP-1633 |