Anti-Rotation Abutment
Transfers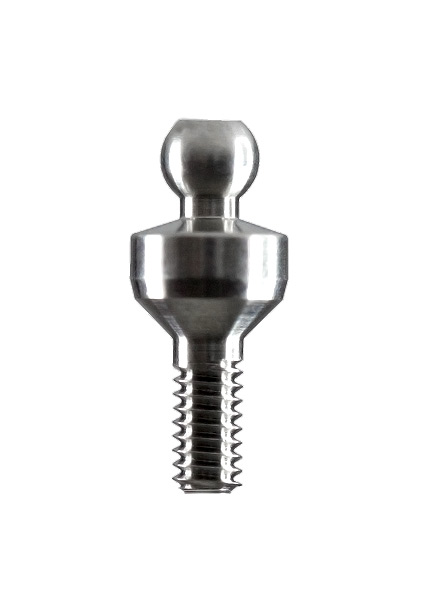 Snap structure connected by a click to the removable denture.
The abutment is available in different heights – 0.5,1,2,3,4,5,6mm – selected according to the height of gums.
The snap abutment is designed with a titanuim cap and silicon intermediate cap. Silicon cap is available in three hardness levels, 1-3 from the hardest to the softest. This snap abutment is designed for accurate joints on overdenture implants.
| | | | | |
| --- | --- | --- | --- | --- |
| Catalog# | Description | Material | L | D |
| DBA-0005 | Ball Attachment 0.5 mm | Ti Grade 5 | 0.5 | 3.75 |
| DBA-0010 | Ball Attachment 1 mm | Ti Grade 5 | 1 | 3.75 |
| DBA-0020 | Ball Attachment 2 mm | Ti Grade 5 | 2 | 3.75 |
| DBA-0030 | Ball Attachment 3 mm | Ti Grade 5 | 3 | 3.75 |
| DBA-0040 | Ball Attachment 4 mm | Ti Grade 5 | 4 | 3.75 |
| DBA-0050 | Ball Attachment 5 mm | Ti Grade 5 | 5 | 3.75 |
| DBA-0060 | Ball Attachment 6 mm | Ti Grade 5 | 6 | 3.75 |
| SCO-6011 | Metal Cap | Ti Grade 5 | 3.2 | 5 |
| SCO-6001 | Silicone Cap Clear | Silicone | 2.8 | 4.4 |
| SCO-6002 | Silicone Cap Soft | Silicone | 2.8 | 4.4 |
| SCO-6003 | Silicone Cap Extra Soft | Silicone | 2.8 | 4.4 |